"This is the one", con ese nombre presentaba hace un par de meses Hikki-chan su segundo disco en territorio yanki (totalmente cantado en inglés). De todo esto ya os hacíamos una previa sobre lo que estaba sonando por entones, no obstante es ahora cuando podemos presentaros todo lo que encontrareis en este trabajo.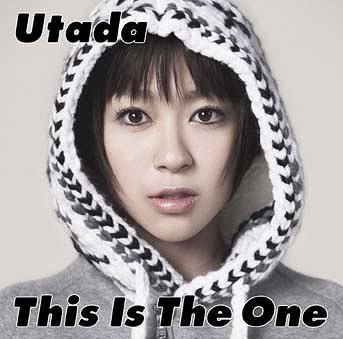 Para empezar, su tracklist sería la siguiente:
1. ON AND ON
2. MERRY CHRISTMAS MR.LAWRENCE-FYI
3. APPLE AND CINNAMON
4. TAKING MY MONEY BACK
5. THIS ONE(CRYING LIKE A CHILD)
6. AUTOMATIC PART 2
7. DIRTY DESIRE
8. POPPIN'
9. COME BACK TO ME
10. ME MUERO
11. COME BACK TO ME(SEAMUS HAJI & PAUL EMANUEL RADIO EDIT)
12. COME BACK TO ME(QUENTIN HARRIS RADIO EDIT)
~ REVIEW ~
Lo primero que deberíamos decir de este disco es que, a diferencia de su primera incursión en inglés ("Exodus '04″), os encontrareis con un estilo menos electrónico (salvo alguna remezcla de voz puntual) y con elementos instrumentales más tradicionales.
El primer tema, "On and on" es la muestra más clara de este hecho, presentando una ligera base que tira hacia el R'n'B (tanto por parte de las voces de Utada, como las de los coros de fondo). Se trata de un tema bastate bailable, pero muy "light". Quitando lo del R'n'B, lo mismo se podría aplicar a "Merry Christmas Mr.Lawrence -FYI", cuyos dos elementos más destacados del ritmo serían un violín y un piano bastante bien coordinados.
"Apple and Cinnamon" también escoge como elemento principal el piano, con una posterior base electrónica (sin muchas pretensiones, eso sí). También tendremos oportunidad de escuchar algún agudo de voz remezclado, tan característico en Hikki (si tuviera que escoger un tema del disco, sin duda me quedaría con este).
Por otro lado, en el tema "Taking my money back", tendriamos que resaltar sobretodo la percusión (con ritmos muy característicos de la black music), no obstante, no acaba de resaltar demasiado. En el caso de "This One (Crying like a child)", además de encontrarnos con una letra bastante emotiva, la guitarra acústica sabe acompañar muy bien el tono sensible del tema.
Si tuvieramos que buscar la excepción viviente del disco, esta sin duda sería "Automatic II", con una letra no demasiado brillante, nos encontramos con un tema elaborado prácticamente en su totalidad electrónicamente. De la misma manera, "Dirty desire" también conserva una base electrónica pero, esta vez, bastante más elaborada que el tema anterior. Con algún fragmento realmente bailable, es lo más próximo al estilo habitual de Utada que encontraremos en este álbum.
"Poppin'" comienza un ritmo muy clásico (casi de película de detectives), con un bajo y una percusión muy bien llevada, junto a unos agudos de la cantante muy destacables (desde luego, una canción bastante "curiosa").
"Come back to me" es un tema que, a estas alturas, es muy probable que conozcais bastante ya. Y es que se trata de la primera pieza que escuchamos del disco que nos ocupa. También con una letra edulcorada, nos introduce un ritmo de piano y una percusión que sin duda, sorprende bastante. Sin desperdicio.
Igual que "Poppin'", "Me muero" se sitúa dentro de ese rango de temas curiosos, ya que su ritmo dista mucho de lo que solemos escuchar de la cantante. Se trata de una especie de samba de salón, con elementos electrónicos puntuales, pero que perfectamente podría hacerse pasar por un tema de dicha estilística (además de lo curioso que resulta el escuchar a Utada diciendo: "me muero", en el estribillo).
Ya por último, aunque el disco no aprovecha el estilo electrónico que siempre acompaña a la vocalista, sí que tendremos oportunidad de escuchar bastante bien remezclado el tema de "Come back to me". El primero tira bastante hacia el "trance", mientras que el otro es más sencillo y enfoca más su perspectiva hacia la percusión. No obstante, ambos están muy a la altura.
~ CALIFICACIONES ~
Originalidad: [77] - Esta vez es difícil valorar este concepto. Y es que, respecto a la carrera de Utada, nos encontramos con un trabajo bastante distinto a los anteriores, muy light y sin demasiadas pretensiones, pero bastante original. No obstante, respecto al ámbito en el que se publica (territorio americano), su estilo no destila demasiada personalidad respecto a otras celebridades del pop de allí. Se trata de un disco original, pero bastante influenciado por el contexto. 
Variedad: [80] - En gran parte, los temas que escuchamos en este trabajo se basarán en pautas muy similares, aunque con estilística bastante variada. Algún tema anexo como "Dirty desire", sorprenderán con esquemas electrónicos. 
Calidad Instrumental: [73] - Realmente, la armonía de los instrumentos siempre es sobria, muy clásica y poco arriesgada. Sin embargo, en casi la totalidad del disco, es algo que funciona y lo hace a la perfección. Desde luego, debo rendirme ante la sencillez y elegancia de "Apple and Cinnamon". 
Calidad / Conjunto: [76] - El trabajo está bastante bien enfocado y Utada nos deja temas muy bien llevados. "On and on", "Apple and Cinnamon" o "Come back to me" serían los más "cumplidores".
GLOBAL: [77] - Nos encontramos con un disco "sencillote", sin temas con toda la garra que puede presentar Hikki (como "Kremlin dusk", "This is love" o "Beautiful World"), y bastante occidentalizado. Sin embargo, su calidad sigue siendo notable, por lo que el listón de la vocalista sigue sin bajar (tanto dentro como fuera de las fronteras niponas).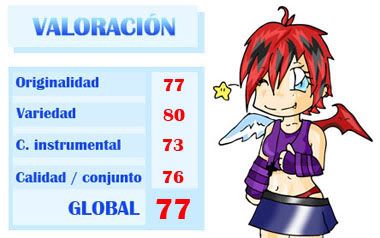 Aprovechamos esta oportunidad que tenemos para recomendarte estos fantásticos hoteles en Gran Canaria.