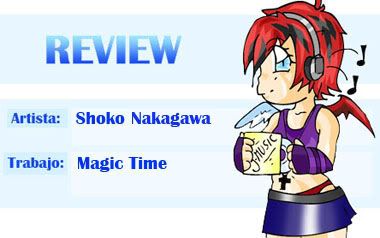 A principios de este mes (y año), llegaba hasta nosotros el que es el segundo álbum de Shoko Nagakawa: "Magic Time", que promete seguir con la calidad del primero.
Y es que, aún sin ser una veterana, Shoko-tan ya comenzó muy fuerte en 2007, con uno de sus singles más conocidos "Sorairo Days" que dió música al Opening del renombrado anime de GAINAX "Tengen Toppa Gurren-Lagann".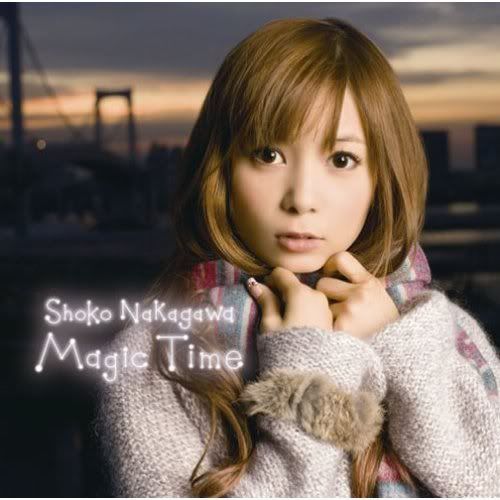 Esta vez, la cantante nos recopila los tres últimos singles del año ("shiny GATE", "Tsuzuku Sekai" y "Kirei a la Mode") y varios temas nuevos, agrupados en la habitual edición CD y CD+DVD (esta incluye el PV de "Fuyu no Yuenchi" y un pequeño tutorial sobre la coreografía, a cargo de la cantante).
Las novedades, para la tracklist son bastante abundantes, como podeis observar:
1.your "Magic Time"
2.Spiral
3.through the looking glass
4.Tsuzuku Sekai - single
5.Sherbet Iro no Jikan
6.Macaroon Holiday
7.Brand-new day
8.Shiny GATE - single
9.Fuyu no Yuenchi
10.Kirei a la mode - single
11.Ivy
12.Sorairo Days – Tengen Toppa Edition -
~ REVIEW ~
Por lo general, el disco es bastante completo, ya que agrupa sus temas más acelerados, como los ya conocidos "Tsuzuku Sekai" y "Shiny GATE", además de otros nuevos de estilo similar, como "Spiral" (que prácticamente se codea, en cuanto a "pegadiza", con "Sorairo Days"), "Mascaroon Holiday" o "Brand-new Day" (ambos con una guitarra muy acertada y, en el segundo, con unos agudos de voz de la cantante bastante bien coordinados).
Por otro lado, tenemos temas más lentos y en tono de balada, empezando por el prólogo "your Magic Time", así como el conocido "Kirei a la mode". Del mismo modo, se presenta "Sherbet Iro no Jikan" que tira más hacia la variedad sonora más electrónica y "poppy", muy similar a "Ivy" que le prosigue.
Y como no podía faltar, para las fechas que acabamos de pasar, "through the looking glass" conserva un ritmo alegre, tirando a navideño.
Sin duda, es un trabajo bastante completo en el que Shoko, nos brinda varios registros de su estilo, tanto en voz como a nivel instrumental y rítmico.
~ CALIFICACIONES ~
Originalidad: [75] Aún es difícil predecir hacia donde irá la carrera de Shoko-tan, sin embargo, en este album sigue habiendo temas que revelan que la artista no se ha estancado. Tanto "Ivy" como "Spiral" (tan diferentes entre ellas), son buena prueba de ello. Aunque dentro del JPop, Shoko-tan no brille igual que las más asentadas, todo es un buen comienzo.
Variedad: [80] Si algo tiene "Magic Time", por encima de todo, es variedad de registros. Con diversas escuchas, nos será bastante difícil confundir un tema con otro. 
Calidad Instrumental: [70] Habiendo escuchado varias veces el disco, cuesta bastante encontrar puntos flojos en cuanto a registros de voz de Shoko (que aunque posee una voz aguda, sí que se nota que se defiende bastante bien con todo lo que le pongan de acompañamiento), instrumentos y composición electrónica.
Calidad / Conjunto: [77] Dentro del repertorio de temas, existen muchos que facilmente se nos pegarán en la memória. Un ejemplo de los que más resaltan, serían "Spiral", "Brand-new day" o el remix (aunque bastante parecido al original) del tema de "Tengen Toppa Gurren-Lagann": "Sorairo Sky".
GLOBAL: [76] Aún queda bastante camino para ver brillar plenamente a Shoko, sin embargo, este segundo album es una muy buena pincelada para comenzar. Disco completo, variado y con bastante potencial para abrirse paso en el mundo del JPop.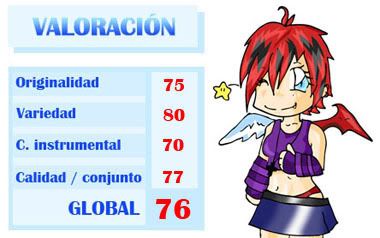 Por mi parte, y ya para finalizar, aquí os dejo el PV de uno de los temas que incluye el disco y que, aunque no es novedad, para aquellos que no conozcais a la cantante será una buena introducción.
Se trata de "Sorairo Days", tema que a los aficionados al mundo del anime, ya les sonará ;)
Firma: ~Novacrois