Al fin, hace un par de días (el 29 de este mes) y tras algun retraso, después de que se anunciara de forma incierta su publicación en octubre, nos llega el nuevo trabajo de Anna Tsuchiya: NUDY SHOW!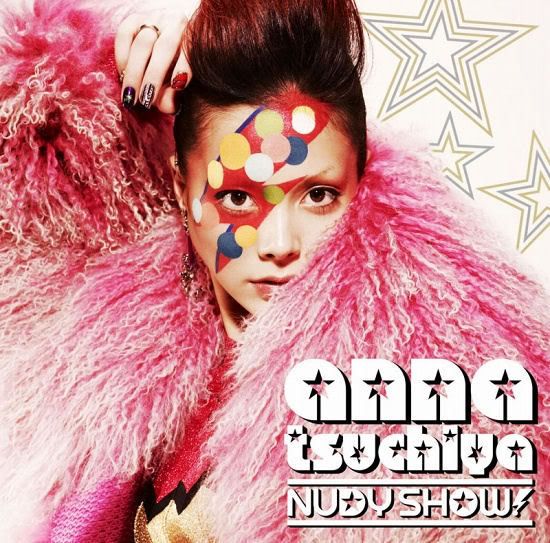 El disco se comercializa en edición normal y la que incluye un dvd de de extras. Hace poco ya me aventuré a entrar a analizar los temas y, desde luego, la evaluación del nuevo trabajo es muy positiva.
01 – Overture
02 – Cockroach
03 – Crazy World feat. AI
04 – Virgin Cat
05 – GINGER feat. MONKEY MAJIK
06 – U
07 – Dirty Game
08 – Style
09 – Masquerade
10 – BUBBLE TRIP
11 – Serenade
12 – Shape of your love
13 – Cocoon ~NUDY SHOW! version~
14 – LUCY
15 – RIDE ON!
16 – BLOOD ON BLOOD
17 – Kuroi Namida ~deep sadness version~
Tal y como podeis apreciar, se incluyen una gran cantidad de temas publicados ya anteriormente en singles (Virgin Cat, U, Bubble trip, Lucy y Kuroi Namida), además de alguna versión como la de Cocoon, algo más lenta y que le da un toque diferente al original (que era más cañero).
Sin contar los temas que ya habiamos escuchado anteriormente, me gustaria incidir en el análisis de los demás. Para aquellos seguidores de trabajos suyos como Strip Me! diré que me he encontrado bastantes temas del estilo de My way (es decir, el registro más JRock de Anna y menos Jpop). Entre este tipo de temas, mención especial de Cockroach (cuyo principio me recordó de alguna forma a Garbage, no adivino el porqué, aún), Crazy world (en colaboración con AI y que podría catalogar como tema clave del disco), Masquerade (algo distinto, ya que tiene un fondo electrónico que no me suena a nada explorado por Tsuchiya hasta la fecha, una grata sorpresa). Style (que está muy bien pero no me ha llamado tanto la atención), Ride On! (del estilo de la anterior) y Blood on Blood (con un muy buen estribillo).
También Anna nos deja su registro más tierno, aunque esta vez me ha marcado bastante menos que el que ofrecían Blue Moon o Every Moment. Una es Shape of your love (con parte lenta y otra más durilla, con guitarra eléctrica y una letra preciosa) y la otra es Serenade (con guitarra acústica y más melódica).
La nota curiosa la tenemos con el tema Ginger (con Monkey Majic) ya que, como es probable que ya sepais, es el tema dedicado a un anuncio de cerveza (Asahi Ginger Draft) y la verdad es que el ritmo le pega bastante.
Hablando del contenido del DVD, tenemos lo siguiente:
01 – Kuroi Namida (Videoclip)
02 – LUCY (Videoclip)
03 – BUBBLE TRIP (Videoclip)
04 – Cocoon (Videoclip)
05 – Crazy World feat. AI (Videoclip)
06 – Virgin Cat (Videoclip)
07 – GINGER feat. MONKEY MAJIK (Videoclip)
08 – [SING OR DIE II]season 07-08
09 – EDWIN (CM CLIP)
10 – DAIICHIKOSHO (MUSIC:sweet sweet song) (CM CLIP)
11 – Baby-G (CM CLIP)
Alguno de los videoclips, además de lo editado en singles, hace referencia a los temas nuevos como Crazy World.
Globalmente el album es sólido y se mantiene en el estilo al que nos tiene acostumbrados Anna Tsuchiya, pero es más purista y menos variado que el Strip Me!. Por lo que si tuviera que recomendar escuchar uno antes que nada, seguiría siendo el que menciono, antes de este último. Aclarando que no es porque la calidad sea menor, sino por el hecho de que el estilo es menos variado y se centra en una rama muy específica del estilo de la cantante.
De momento solo puedo decir que a los fans, os encantará y, a los casuales que quieran darle una oportunidad, probad el Strip me! y, si os gusta, continuad con éste.
Solo me queda ofrecer una muestra de uno de los temas que más me han gustado: Crazy World, para que vayais abriendo boca, los que aún no lo hayais visto. Y sobretodo, esperar que lo disfruteis ;)
Firma: ~Novacrois